HISTORY OF INNOVATION
PHASE 1: 1996-2000
With right computer, Internet shows provide alternative
May, 2000
By Lowell Ullrich
HISTORY OF INNOVATION
PHASE 1: 1996-2000: The Content Years
HISTORY OF INNOVATION
PHASE 2: 2001-2009: B2B Platform Evolution
HISTORY OF INNOVATION
PHASE 3: 2009 - Present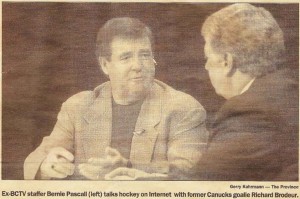 The studio is unbelievably modest. Two cameras, one of them a mounted camcorder. A couple of small lights.
If this is where the future of televised sports is taking shape, you do not want to see it happen searching for the unmarked studio building, located on a dead-end street in a Burnaby industrial park, at night.
The set is no match for the nearby digs at BCTV, where Bernie Pascall worked for 28 years.
But it is here where he gets cozy with his audience through the Internet as host of Hockey on Tap.
"The Internet," Pascall muses.
"When I started this I had zero knowledge about the Internet."
Now he's part of it, hosting the first show of its kind, at noon Tuesdays at www.hockeyontap.com.
Webcasting has gained limited acceptance because of problems associated with streaming media. Translation: It's too slow for dial-up connection users.
But it's getting bigger. Interactive Netcasting Systems Inc., (INSINC), which bankrolls Pascall, last fall showed live harness racing from Fraser Downs and will soon do the same with Hastings Park at www.mediaontap.com
The initial conclusion is that any computer geek can now have their own show. Pascall looks at the two-month-old hockey concept as something different than a sports equivalent of public access TV.
It's not as if he hasn't had time to think about the future.
BCTV dumped him as part of a 1997 purge. He took the station's full-pension offer and has tried to stay in the marketplace. Pascall's most recent project was to write a report at the request of the provincial government on violence in hockey.
Now he's eager to rub webcast reporting triumphs in the faces of mainstream television. This, he says, is not hard to do.
"Everyone (in TV) wants to be a comedian," said Pascall, who has recruited ex-BCTV kamikaze reporter Michael Kennedy for Hockey on Tap. "You don't see stories anymore. You don't see Pat Quinn flinging a hockey stick (like he once did at Kennedy)."
"It's highlight after highlight. It's laziness. With (webcasting) we have time to get into topics."
The show is no visual masterpiece. Video for program credits are clips from Pascall gigs over the years. Nothing stolen.
But it's decent enough. And with Pascall's connections it only figures to get better. Can't watch Tuesdays? All the shows are in archives.
It's production-cost friendly. You couldn't play a hand of bridge with the number of crew members it takes to do Pascall's show.
Webcasting's downside: It's a little tough to follow your favourite team this way at the beach. "It's television in a way, but we're trying to do things totally different than television," said INSINC production manager John Doyle. "It's sort of how pirate radio started out."
The difference is that the pirates, judging where Pascall works, had better digs.
HISTORY OF INNOVATION
PHASE 1: 1996-2000
HISTORY OF INNOVATION
PHASE 2: 2001-2009
HISTORY OF INNOVATION
PHASE 3: 2009 - Present