HISTORY OF INNOVATION
PHASE 2: 2001-2009
Streaming Video to Bloom Under Budget Cuts
Belt-Tightening and Need-For-Speed will Fuel Use of Web-Based Communications
HISTORY OF INNOVATION
PHASE 1: 1996-2000: The Content Years
HISTORY OF INNOVATION
PHASE 2: 2001-2009: B2B Platform Evolution
HISTORY OF INNOVATION
PHASE 3: 2009 - Present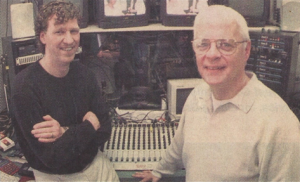 A B.C. based firm that is a leading producer of streaming video in Canada is not surprised market research is predicting exponential growth in corporate spending on this Internet-hosted technology.
"Essentially, times are tough for a lot of companies and budges are being cut," says Alan Mattrick, director of business development for INSINC. "When it comes to staff training, for example, it can be very economical to take your brochures and put them in a slide format and have your product manager do a 10-minute presentation hosted on your Web site so any number of employees can view it in real time or in their own time."
INSINC (www.INSINC.com) is a four year old, Burnaby-based, private company whose technology allows video to be played over the Internet either as a live stream or on demand. The company has seen its revenue rise 120 percent last year over 1999, due in large part to growing demand from the corporate sector.
According to Internet researcher Jupiter Media Metrix (www.jmm.com) of New York, North American businesses will be paying out US $2.8 billion on streaming video technology by 2005, up from a lowly US $140 million last year.
Christine Perey, head of Perey Research & Consulting Inc. (www.perey.com) of Placerville, California, a market research company which has done work in this area for Intel, Cisco Systems and Microsoft, agrees.
"The Web has made us want information instantaneously, and access to that information in a visual format allows us to digest concepts more quickly. People like watching clips and small videos from their desktops, so there's certainly a lot of room for more use [of video streaming]."
However, Perey says certain sectors are using the technology more than others. "Areas such as financial services, publishing, advertising and high technology, for example, will use it more because a lot of information has to be conveyed quickly and in a compelling way."
She adds streaming video is not used as much in areas such as retail and customer service, where "there is a need for one-to-one human contact. While e-commerce is a very viable alternative for going to a business, people continue to go to a physical place to shop."
Mattrick believes more and more organizations are now including Internet-based initiatives as part of their overall communications planning, a move that will spur interest in streaming video.
"Businesses have philosophically got to the stage where they are defining their operations to accommodate the e-business model and streaming media is a component of that."
INSINC, which raised $2.5 million from management, staff, friends and family two years ago and has a staff of 16, has hosted a wide variety of corporate Web casts incorporating streaming video.
These include AGMs for Rogers Communications Inc.; sales presentations for Compaq Computer Corp.; a product launch for Canadian Tire Corp. Ltd.; a major strategy release by 360networks Inc. and a studio and campus opening by the Prime Minister for Electronic Arts (Canada) Inc.
Jupiter reports that 90 percent of companies using streaming video technology are relying on its ability to reach large numbers of employees simultaneously.
Perey notes that the technology is one of several that corporations can use to communicate, such as the more traditional video and satellite conferencing and actual videos, and that each has its owns pros and cons.
"Customers need to figure out what their specific needs are, who their audiences are, whether you're trying to reach many people at the same time or whether your message can be delivered on demand.
"If you need interaction with the audience, video or Web conferencing would be the most appropriate. Satellite is a means of providing access to or from remote locations, such as an oilrig. Video conferencing is best when audiences are very small, under 10 people."
The cost of streaming video is lower than both satellite and video conferencing and this ability to enhance efficiency was one of the main reasons E-cubed Media Synthesis Inc., a Vancouver e-business solutions provider, chose Web casting for a major strategy announcement by their client 360networks.
E-cubed's president Kyle Bailey contracted INSINC to do the live Net cast to shareholders, brokers and analysts. A feature of the Web cast was a window on the screen where a PowerPoint presentation was shown as the host talked.
"Definitely, the biggest benefit was cost saving compared to what it would have been via satellite," says Bailey. "You can also offer access to basically anyone on the Web and there was interaction as people viewing the program could send questions to the presenter."
Where streaming video can be expensive is in the creation of the programs, says Perey. "We do expect these programs to have a certain style of production that often has a high cost associated with it. We're looking at graphics and animation, maybe music. When you're (video or satellite) conferencing, those costs are not expected. The cost is by the minute."
Mattrick says when companies employ streaming video, they essentially become "mini-broadcasters," using the Web to communicate with various audiences from shareholders to staff, suppliers to customers. Internal corporate communications uses include execute addresses to staff, which Mattrick jokingly refers to as an "Egocast," and interoffice meetings.
"Each one of these audiences already has an Internet-based facility already, so there's no need to add another layer of infrastructure."
Explaining how the technology enables Internet broadcasting, INSINC president and DEO Hugh Dobbie says, "Audio and video content (created either live with cameras on the scene or as a pre-produced piece) is distributed through a centralized server, ready to be transmitted live or on-demand to Internet users."
With a click on an audio or video file, the content is sent as a data stream from the server to the user's desktop. There are a variety of free media players, such as Realplayer and Quicktime, which turn the data into video or audio. Broad bandwidth connections can receive real time, live streaming video, while slower speed receivers have a progressive download with some buffering.
Mattrick says trying to send video was like "putting Niagara Falls through a straw" and that compression software which reduces the size of the information dramatically is key to being able to stream it. Broad bandwidth, now more commonly used, is another enabling factor.
INSINC's early clients included broadcasters like Vancouver radio station CKNW 98. An audio stream was created for the station allowing listeners around the world to pick up streaming, live broadcasts via their Web site.
"Broadcasters understood the technology," says Dobbie, "and even perceived Web casting as a competitive threat in the early days." However, he adds, "At no time have we ever looked at Net casting as being competitive to the broadcast media. We're complimentary."
As an example, he cites a recent Web cast INSINC did during the Vancouver Canucks' final playoff game of the season.
"Because of the TV broadcast requirements, we could not show the game. However, we put cameras in the announcers' box, dressing room and the penalty box and between periods or after the game you could go to the Web site and see all the behind the scenes stuff. It brought the team closer to the community and complemented the game shown on TV."
HISTORY OF INNOVATION
PHASE 1: 1996-2000
HISTORY OF INNOVATION
PHASE 2: 2001-2009
HISTORY OF INNOVATION
PHASE 3: 2009 - Present