HISTORY OF INNOVATION
PHASE 2: 2001-2009
Canucks Fans Score Big Online
Revamped site gives users access to team
THE PROVINCE
By Jim Jamieson
HISTORY OF INNOVATION
PHASE 1: 1996-2000: The Content Years
HISTORY OF INNOVATION
PHASE 2: 2001-2009: B2B Platform Evolution
HISTORY OF INNOVATION
PHASE 3: 2009 - Present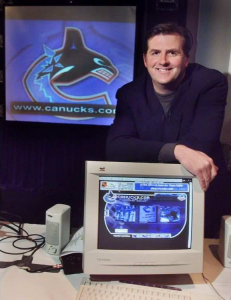 The Vancouver Canucks are going hard to the net – but with an eye to maximizing assets, not goals.
The NHL club unveiled a completely revamped website yesterday at GM Place, one they believe puts their Internet presence at the forefront of professional sports teams.
The ambitious initiative at [www.canucks.com] relies heavily on streaming audio and video and also promises daily original written reports on the team, home and away.
"We think this is a critical avenue for teams moving into the next area of revenue, particularly for Canadian teams," said Brian Burke, president and general manager.
"I think we have to be creative in terms of finding resources. But this, at least to start out, is a fan initiative. Fans have told us they want more inside stuff and that's what we're trying to provide."
The project, which parent company Orca Bay Sports and Entertainment would only say cost well into six figures, will provide fans with behind-the-scenes glimpse of the Canucks, including still pictures and video of game-day skates, game action and post-game interviews.
"The fans' information appetite these days is voracious," said Chris Hebb, Orca Bay's vice-president of broadcasting.
"We wanted to leverage some of the assets we already have, video and audio, and bring to the fans exclusive access to the team."
Hebb said the revenue model is based on maximizing the number of visitors to the site. Canucks.com has five major sponsors – Telus, HSBC, PMC-Sierra, General Motors and Molson Breweries – and video clips will be preceded by commercials featuring them.
"We want to build a large traffic base and once you do that the sponsorship and the other revenues will follow. It's all about eyeballs – the more people we can tell our sponsors are on the site, looking for merchandise, clicking through our ticket window."
Getting the best out of the site requires Windows Media Player version 7, Flash version 5 and a browser (Netscape or Explorer) with version 4 or better.
The Canucks are banking on the continued explosion of high-speed Internet access, although the video – though choppy – can still be viewed via dial-up. Tech support for the site is available via e-mail at [[email protected]].
The site was designed by OperEx, a division of Hip Interactive, with Vancouver's Interactive Netcasting Systems (INSINC) providing the streaming video technology.
Hebb said the site's next phase will feature web-accessible cameras around the rink, including the broadcast booth and penalty box.
HISTORY OF INNOVATION
PHASE 1: 1996-2000
HISTORY OF INNOVATION
PHASE 2: 2001-2009
HISTORY OF INNOVATION
PHASE 3: 2009 - Present