HISTORY OF INNOVATION
PHASE 2: 2001-2009
April 6, 2001
By Al Mattrick
HISTORY OF INNOVATION
PHASE 1: 1996-2000: The Content Years
HISTORY OF INNOVATION
PHASE 2: 2001-2009: B2B Platform Evolution
HISTORY OF INNOVATION
PHASE 3: 2009 - Present

INSINC has teamed up with Digital Circus and DVD International to emulate a limited streaming media version of the newly released, Point of View. The streaming media version maps to the innovative design of the DVD version is an industry first.
The next generation of filmmaking has arrived as DVD International and Digital Circus introduce "Point of View," a movie that unleashes the interactive power of DVD. A feature-length film seamlessly combined with state of the art interactivity that is simple to use, "Point of View" is from the creators of DVD International's award-winning "Tender Loving Care," and will be available on April 17th at a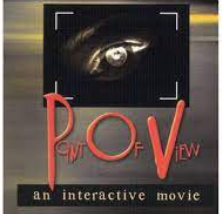 suggested retail price of $29.99. The release will coincide with a unique internet streaming promotion, as consumers will have the opportunity to actually interact with the streaming video in exactly the same manner as they would the DVD—a first in internet technology. Viewers will also be able to either purchase the DVD on-line at a discounted price, or download a coupon to use toward the disc's purchase at a retail outlet. The streaming version can be accessed via www.povthemovie.com.
"While 'Tender Loving Care' was heralded for its creative innovation and use of technology, my partner, Rob Landeros, and I felt we barely scratched the surface," said David Wheeler, co-founder, Digital Circus. "'PoV' is further advanced in almost every way. DVD technology has allowed us to apply our computer based interactivity to mainstream movie making in a form the public is quite willing to embrace. Our ever-increasing numbers of fans are anxious for this next title and we won't disappoint them." "'Tender Loving Care' provided us with a great opportunity to distribute an intriguing interactive film product," said David Goodman, president, DVD International. "With 'PoV,' Digital Circus has taken digital filmmaking to a new level, and having been involved in production on the front end, we had the opportunity to expand our knowledge of, and participation in DVD production."
"PoV" takes advantage of the high-tech digital equipment that has made Digital Circus innovators in the industry. The film was shot, edited and completed entirely with digital technology. Following the completion of the film, Wheeler and partner Rob Landeros spent the next nine months incorporating interactive properties for the film's DVD release.
In cooperation with INSINC, the leading Canadian full-service streaming media company, DVD International will make "PoV" available via on-line internet streaming. The web version will present four chapters of "PoV," exactly emulating the interactive experience of the DVD in a presentation that has never been accomplished with any streaming media programming. Consumers logging onto the streaming version will be able to purchase "PoV" directly on-line, or download a mail-in rebate coupon to be used toward purchasing the disc at a retail outlet.
"Point of View" is a contemporary, edgy urban story about obsession, art, eroticism and murder. It follows the story of Jane, a beautiful, mysterious artist, and a recluse who avoids all real human contact. Holding a deep, dark secret, she is running from her past, and expresses herself only through her art. With camera in hand, Jane gazes out her apartment window, taking pictures of her neighbor, Frank. A strange attraction develops, as Jane mysteriously begins to create composite drawings of herself and Frank together. Her erotic obsession sets the stage for danger and bizarre events, both real and imagined.
The film is divided into 12 chapters, each ending with an Interactive Interlude. The viewer is asked a variety of "exit poll" questions, based on the characters, plot elements and the central themes of the story. The input builds a personality profile, based on the viewer's own ideas and perceptions. The answers guide the behavior of the characters, the subsequent chapters and, ultimately, the different endings of the movie.
DVD International (DVDI), based in Mountain Lakes, NJ, focuses on DVD distribution opportunities and distributes programming from Aftermath Media, Alpha DVD, Bennu Multimedia, Infinite Ventures, Joe Kane Productions, Michael Nesmith's Santa Fe Pictures, Mill Reef Entertainment, NAXOS of America and Planet Theory.
Digital Circus, based in Vancouver, Canada, handled all aspects of production and post production including DVD authoring. Digital Circus is a sister company to Aftermath Media, and is dedicated to creating i  nteractive entertainment with compelling content and extraordinary executions. Co-founded by Rob Landeros and David Wheeler, two of the most recognized creative forces in the multimedia industry, Aftermath Media explores fresh, new ways to approach the time-honored art of storytelling through the use of up-to-the-minute media.
INSINC is the leading Canadian full-service streaming media company focused on

providing Netcasting solutions for clients. The company provides professional consulting, broadcast production services, hosting services and the "impact" line of interactive presentation tools. The company deploys all major streaming technologies, including RealMedia, Windows Media Player and Apple Quicktime.
HISTORY OF INNOVATION
PHASE 1: 1996-2000
HISTORY OF INNOVATION
PHASE 2: 2001-2009
HISTORY OF INNOVATION
PHASE 3: 2009 - Present